Appointments System
Telephone 01494 448132 option 1
The surgery is open from 08:30 until 18:30 Monday to Friday. The phones are open from 0800. We see patients by appointment only. Surgeries are available every weekday from 0830 through until 18:30. (We provide extra appointments later in the evening and at weekends. Some of these appointments may be at other local surgeries and with their staff). Our reception staff who are bound by medical confidentiality rules will be pleased to help you. They may need to ask for medical details to help you get the correct appointment.
Medical Advice 01494 448132
If you wish to discuss a medical problem with a doctor or nurse please leave your contact number and the appropriate person will be pleased to call you back.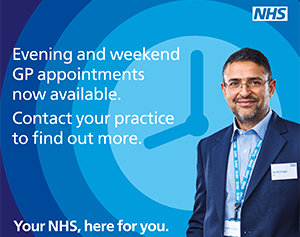 We are open longer
Appointment Times
| | | |
| --- | --- | --- |
| Monday | 08:30 - 12:00 | 13:30 - 19:00 |
| Tuesday | 08:30 - 12:00 | 13:30 - 19:00 |
| Wednesday | 08:30 - 12:00 | 13:30 - 19:00 |
| Thursday | 08:30 - 12:00 | 13:30 - 19:00 |
| Friday | 08:30 - 12:00 | 13:30 - 19:00 |
Additional Appointments
We are also open from 18.30 to 19.00 each day and also until 20.00 on Tuesdays. These are for pre-booked appointments and our phones are not open at these times.
On Saturdays, Sundays and other weekday evenings there are pre-bookable appointments within High Wycombe. These rotate around the local GP Practices and you will be likely to need to travel to a different place.
Training Practice
We are a training practice which means that we train GP's and support the training of other staff. A GP Registrar is a GP in training who is overseen by one of our experienced GP's.
If you do not want to see a trainee GP, please let us know.
Test Results
Telephone 01494 448132
You need to phone us for Test results which can be obtained between 14:00 and 16:00 during the week.
Most results take about a week to arrive from the hospital.
Home Visits
Telephone: 01494 448132
The doctors will be happy to visit patients at home when medically necessary. This is a service for those who are too ill or infirm to attend the surgery. To request a visit please call before 10:30. Our reception staff will need to ask details of your medical problem.
Accessibility, Interpreters and Chaperones
Interpreter or Accessibility Requirements
If you require an interpreter or have other specific accessibility requirements please notify the receptionist and we will arrange this for you. This could include requirements such as needing a downstairs appointment or needing a sign language interpretter.
We use an outside company to help us with some of these requirements and need to pre-book these services.
We also have a mobile induction loop, and can print letters and information in large print. Our staff will be happy to assist if you need assistance to find your way around inside the building.
Making you feel at ease
We can provide a chaperone for your appointment if you would prefer someone to be with you. Where possible we will book you with your choice of male/female GP.
Cancellations & Reminders
Cancel an Appointment
It is important that you inform the reception staff if you are unable to attend your appointment, this will allow that appointment to be offered to another patient.
Please cancel a GP appointment giving us at least 2 hours notice.
Please give us 24 hours notice to cancel nurse and specialist clinic appointments but ideally longer if you are able to.
If you fail to notify the Practice that you are unable to attend, you may be sent a letter informing you that you have defaulted from your appointment. Persistent defaulters maybe removed from the list.
You can text to cancel your appointment by replying to your text reminder.
Why Cancelling Is Important
Thank you to the 4242 people who let us know they needed to cancel their appointments last year. We could have provided another 2447 appointments last year if everyone had cancelled.
Patients who cancel their appointment when they know they cannot make it, allow us to make the appointment available for someone else.
Cancelling with enough notice, means that we can re-fill the appointment. Unfilled appointments are wasteful and ultimately costly. A missed 10 min GP appointment costs over £30.
Text Reminder Service
We have a texting service which allows you to recieve confirmation and reminders about your appointments.
To have this service you will need to register by completing a consent form.
Please remember to update your contact details with us when you change address, telephone numbers and email address.
Late for your Appointment
Please attend your appointment on time, if you are late you may not be seen. If you are not seen you will not be able to rearrange your appointment until the next working day-except in the event of an medical emergency that requires immediate attention.
Delays and Changes to Appointments
Our clinicians intend to run to time. However this is not always possible. Please accept our apologies in the event that your appointment is later than you expected. Our clinicians need to ensure that they treat our patients appropriately and at times patients will require longer than 10 minutes or we may need to wait for outside assistance (eg an ambulance) to arrive.
Our Practice staff are humans and are equally affected by sickness and family events as most of our patients are. We will do everything we can to mitigate the need to cancel or change appointments but sometimes this is required. Please accept our apologies for any inconvienience.